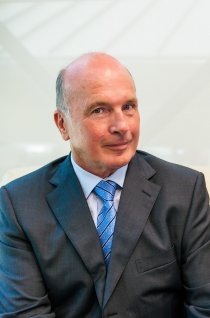 Ian Paget-Brown KC
Paget-Brown Chambers & Paget-Brown PLLC
Ian Paget-Brown KC is an experienced Cayman attorney. Admitted in England and Wales in 1968 and in the Cayman Islands in 1971, Ian has over 50 years of experience and is recognized as a leading expert in Cayman law.
Ian is also admitted a member of the bar of the United States Supreme Court, the District of Columbia, Virginia and Colorado, a Certified Financial Crime Specialist 2013 (CFCS - Association of Certified Financial Crime Specialists) and a Certified Anti-Money Laundering Specialist 2003 (CAMS - Association of Certified Anti-Money Laundering Specialists).
Education
Ian was born in Torquay, England. His parents moved to Germany in 1946 where he was educated in Bavaria Germany (Humanistisches Gymnasium Garmisch- Partenkirchen) until 1959 when his family returned to England where he attended Nottingham High School England until 1963.
Ian obtained his first law degree from the University of London in 1966 and was called to the bar at Lincoln's Inn in 1968. In 1987, Ian was awarded Juris Doctor from Washington and Lee University Virginia USA.
Bar Admissions
England and Wales, 1968;
Cayman Islands, 1971;
Supreme Court, Colorado, 1984;
United States District Court, Colorado, 1985;
Supreme Court, Virginia, 1987;
United States Court of Appeals, Fourth Circuit, 1987;
Court of Appeals, District of Columbia, 1988;
Supreme Court of the United States, 2008
Appointments
Queens Counsel, Acting Magistrate (Cayman Islands) in 1994, Commissioner of the Cayman Islands Law Reform Commission in 2006 and Chairman of the Cayman Islands Law Reform Commission in 2011, for the statutory five-year term.
Additional Language
German
Practice Areas
Civil Litigation 
Alternative Dispute Resolution
Publications
"Cayman Islands", Offshore Business Centres Publication, International Tax Planning Association (2007)
"Cayman Islands", Offshore Finance Handbook (2005)
"International Tracing of Assets - A Cayman Perspective", Institute of Advanced Legal Studies (1997)
"Paget-Brown's Cayman Islands Companies Law", First Edition (1974); Second Edition (1995)
"The Trusts Law of the Cayman Islands", International Estate Planning Law and Practice, American Bar Association (1994)
"Pre-trial Discovery: A Comparison of the English and Federal Rules of Civil Procedure", The Bencher, American Inns of Court Foundation, (February, 1989)
"Bank Secrecy and Criminal Matters: Cayman Islands and United States Co-operative Development", Case Western Reserve, Journal of International Law (Volume 20, Number 2, Summer 1988)
"The Commercial Law of the Cayman Islands", First Edition (1982), Second Edition (1985)
"The Confidential Relationships Preservation Law 1976 and the Evidence (Proceedings in other Jurisdictions) Cayman Islands Order 1978", Northwester Magazine (1983)
"Legal Aspects of Doing Business in the Cayman Islands", Centre of International Legal Studies (1982)
"Companies, Trusts and Banks", Cayman Islands Handbook and Businessman's Guide (1978-1982)
"The Cayman Islands - A Solid Foundation", Tax Haven and Shelter Report (July, 1978)
"Project Haven and the Cayman Reply", Cayman Islands Handbook and Businessman's Guide (1977)
"Transfer of the Form of Administration of Trusts under the Laws of England and the Cayman Islands", International Fiscal Association, Miami Conference (1976)
Speaker
"Banking Confidentiality" Eighth Biennial Regional Central Bank Legal Seminar Cayman Islands May 2007
"A Comparative Study of the Laws Protecting Financial Privacy Human Rights Today", Caribbean Symposium, Cayman Islands, United Nations Decade of Human Rights, September 2001
"Company Formation and Management in the Cayman Islands", The Cayman Islands Financial Services Seminar, April 1, 1998, Sao Paulo, Brazil Program
"Cayman Islands International Cooperation in Criminal, Civil and Regulatory Matters", UWI/UNOCP Regional Judicial Symposium, August, 1998 
"Commercial Crime Prevention Conference" 1997 sponsored by Cayman Islands Government - Conference Chairman
"Confidentiality and Civil Liability Issues" International Financial Fraud Convention, London England 1996.
"Cayman Islands - Confidential Information and International Cooperation in the Investigation of Corruption and Criminal Matters" Fourteenth International Symposium on Economic Crime, Cambridge England 1996
"Development of Offshore Limited Life Companies" May 1995 Offshore Investment Caribbean Conference Puerto Rico
"Mutual Assistance Treaties in Criminal Matters: Tax Haven Operations and the Extra-Territorial Enforcement of United States Criminal Law", International Tax Planning Association, 1987, Annual Conference, Barbados
"The Laws of Bank Secrecy", International Tax Planning Association, 1982, Annual Conference, Florence, Italy.
Professional Memberships
American Bankruptcy Institute
Association of Certified Financial Crime Specialists
Association of Certified Anti-Money Laundering Specialists
International Association of Restructuring Insolvency & Bankruptcy Professionals (INSOL International)
Association of Certified Fraud Examiners
Colorado Bar Association
American and International Bar Associations
District of Columbia Bar
Virginia State Bar
Virginia Trial Lawyers Associations
The Honourable Society of Lincoln's Inn
New York International Arbitration Association